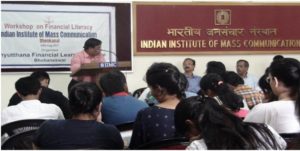 AFLC conducted a Workshop on Financial Literacy at IIMC, Dhenkanal on 24 08.17. It was a proud moment for AFLC as it conducted the 2 ½ hour program in the Silver Jubilee Year of the Institute.
The Program was conducted by D.Mishra, T.Maharana, and S. Choudhury experts from RBI and NABARD.  In the workshop, a  video styled " Why Financial Literacy?" was shown. This basic question put by a business school student in the Seminar on Financial Literacy and Financial Inclusion organised by AFLC in 2016, P. Krishnamurthy, former PCGM , RBI , a panellist did explain brilliantly the need for financial literacy.
In the workshop, the speakers discussed and provided valuable inputs on importance of budgeting, saving, Credit discipline , KYC norms, Currency Management, moving towards "Less Cash" society, Cyber Frauds , Grievance redressal system, Banking Ombudsman Scheme, Sachet website, Financial Inclusion : Informal Lending System and SHG; explained significance of compounding of interest, Rule of 72.
In all, 65 students and 11 officials/ faculty members participated in the Workshop.
(T.Maharana explained SHG scheme and need for financial literacy to its members)
https://aflcfinlit.org/wp-content/uploads/2017/07/Header-Image-3.jpg
0
0
editor
https://aflcfinlit.org/wp-content/uploads/2017/07/Header-Image-3.jpg
editor
2017-09-25 06:12:00
2017-09-25 06:12:00
Workshop on Financial Literacy at Indian Institute of Mass Communication (IIMC), Dhenkanal