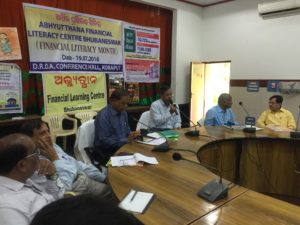 Abhyutthana Financial Learning Centre organized  a  Workshop on Financial Literacy  at  Koraput town in Sadbhabana Hall on July 19, 2016. The participants were  SHG members, RSETI trainees, Odisha Livelihood Mission, NGOs and few bankers. Out of the total of 65 participants, Women participation was an impressive 50.
D.Mishra, managing partner, AFLC welcomed the participants and introduced the guests and speakers. He gave a brief account of the functioning of AFLC. Shri KR Das, former Regional Director, Reserve Bank of India, Hyderabad  presided over the proceedings.
Shri Gadhadhar Parida, former Collector , Koraput  was the Chief Guest. Shri Parida, released the Souvenir 2016 which is a compilation of articles deliberated in "Seminar on Financial Literacy and Financial Inclusion" organized by AFLC   on March 19, 2016 .
Shri G C Mishra, former General Manager , Syndicate Bank and Former State RSETI co-ordinator explained the evolution of  banking in India, present banking structure, basics of banking, banking practice, KYC,  technology in banks , ATM use and rural banking.
Shri KR Das, gave a brief account of the functions of Reserve bank, role of Banking Ombudsman in grievance redressal.  He explained the features of currency notes, how to distinguish genuine notes from counterfeit  notes and  the security aspects of the same.
Shri  Parida spoke about the financial inclusion measures initiated and  steps taken by his administration for  opening of bank accounts by each individual in the district.
Shri Jagannath Behera, from Utkal Grameen Bank  informed about the branch net work  and CD ratio of the district, which is improving steadily.   He explained the government schemes viz. Jan Dhan Yojana and micro-insurance schemes.
Shri KR Das summed up the proceedings  and advised the participants to send their feed-back to improve the program.
https://aflcfinlit.org/wp-content/uploads/2017/07/Header-Image-3.jpg
0
0
editor
https://aflcfinlit.org/wp-content/uploads/2017/07/Header-Image-3.jpg
editor
2017-07-07 06:39:54
2017-07-07 06:39:54
Workshop on Financial Literacy at Koraput