AFLC conducted a Workshop on Financial Literacy in DAV Public School, Pokhariput, Bhubaneswar on 9 November 2018. The students of class XI and XII of the Commerce stream participated.
At the outset, Mr Ved Swaroop -the student representative welcomed the guests and the participants to the workshop. Ms Manaswaini Mohanty, Faculty gave a short introduction of the guests.
Shri D.Mishra, Managing Partner of AFLC briefly explained the objectives and activities of the entity. He explained the financial system, banking structure, including the new breed of banks such as Payment Banks, Small Finance Banks, KYC, credit culture, and going digital, cyber risk, banking regulation and deposit insurance. He then explained significance of real rate of interest, compounding of interest and Magic with 72 and SACHET site of RBI.
Shri Siladitya Choudhury, former General Manager , RBI explained briefly the Financial Awareness Messaging ( FAME) Framework of RBI. He explained important central banking function of RBI, particularly the currency management: printing of notes, distribution, currency verification and Processing System (CVPS), management of foreign exchange . He gave a flair of capital market , particularly use of mutual funds and SIP as an alternative investment channel.
Shri Dharani Dhar Mishra, former General Manager, NABARD and present National Resource Person , National Livelihood Mission of Government of India, spoke briefly the developmental and regulatory role of NABARD. He explained the role of NABARD for furthering financial inclusion in the state. He explained that the SHG movement started by NABARD in 1992,-a concept initially developed in Bangladesh. The recovery rate is as high as 98 per cent.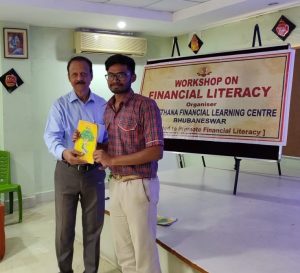 A Financial Quiz was conducted by Shri  D D Mishra. Students participated very enthusiastically. Financial Education Series books published by RBI were given as prizes to 12 successful students.
Mr Subham Das , Class XII student proposed a vote of thanks.
AFLC is thankful to Ms Farhat Kayamat and Ms Manaswini Mohanty – faculties of the School for the excellent co-ordination work.
https://aflcfinlit.org/wp-content/uploads/2017/07/Header-Image-3.jpg
0
0
editor
https://aflcfinlit.org/wp-content/uploads/2017/07/Header-Image-3.jpg
editor
2018-11-17 10:42:24
2018-12-17 09:35:44
WORKSHOP ON FINANCIAL LITERACY IN DAV PUBLIC SCHOOL, POKHARIPUT, BHUBANESWAR ON 9 NOVEMBER 2018