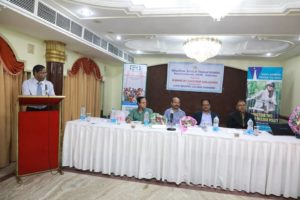 Promoted by Abhyutthana Group, and launched in the "Seminar on Digital Financial Literacy For All", on July 24, 2017, in the august presence of Shri A.P. Hota, then Managing Director and CEO of NPCI , ASFIRE, has the proud privilege to conduct a "Workshop on Leadership Challenges for Financial Institutions" in Hotel New Empires, Bhubaneswar on 9 September. Officials from banking, insurance sector, former senior officers from RBI, NABARD, commercial banks, Government of Odisha, NGO etc participated in the day-long Workshop.
The Seminar was inaugurated by Sri Shreedhar Behera, Banking Ombudsman, RBI, Bhubaneswar, as the Chief Guest.
Management and Insurance Guru, Dr K.C. Mishra, Director, Doha Bank, former Director, National Insurance Academy, Pune, former Vice Chancellor of Sri Sri University, Cuttack delivered the Key Note address. In his illustrious career spanning over three decades, Dr Mishra was also Director, Lal Bahadur Shastri Institute of Management, Delhi and was Member of Planning Commission Sub Group on Weather Insurance for Agriculture. In his eloquent and erudite speech, Dr Mishra covered the various types of leaders, flagged the leadership challenges in new age institutions and advised the participants how to become a successful leader.
The Workshop was conducted by Dr Ashok Mangaraj, Director , BRAINSTAIN, and an experienced financial consultant and National Level trainer in the corporate world, Dr Suchitra Pal, Associate Professor, Organisation Behaviour, Xavier University, Bhubaneswar.
Dr Mangaraj spoke about the managerial responsibilities, key issues in leadership, Decision making, Interpersonal skills, Resource Management, Conflict Management and Stress Management.
Prof (Dr) Suchitra Pal, explained Emotional Intelligence based Leadership and work-life balance and conducted a psychometric test.
Shri Tapan Mishra, a motivational speaker, visiting faculty to Indian Institute of Business Management (Patna), Faculty Member of Art of Living Foundation, International ( so far trained more than 30,000 participants), Motivational Trainer in DRDO, HAL, NALCO, BSNL, SAIL etc spoke brilliantly and interacted with the participants.
At the outset, S Choudhury, former General Manager, RBI, Member, Advisory Group, AFLC welcomed the guests and participants. D.Mishra, Founder of ASFIRE spoke about the objectives of the institute and gave introduction of the guests.
Eminent and former executives viz,. S.K. Mitra, former Executive Director, NABARD, K.R Das, former Regional Director, RBI, Hyderabad, T. Maharana, former CGM, NABARD, RC Das, former CGM, RBI, B.M Patnaik, former General Manager , NABARD and State Coordinator, Odisha Livelihood Mission (OLM), Satyabrata Padhi, Government of Odisha, Premananda Dash , former DGM, Canara Bank, Sudarsan Sahu, a former banker and Deenabandhu Sahu, Managing Trustee Swapna Trust participated.
ASFIRE is thankful to Manoj Satapathy, General , IFFCO Tokio for shaping the outline of the Workshop.
S.K. Mitra, Adviser , AFLC gave the valediction address. K.R. Das, President , ASFIRE gave away the Participation Certificates.
ASFIRE places on its record a deep sense of appreciation and likes to thank Deenabandhu Sahu (a former official RBI) and Managing Trustee, Swapna Trust for promptly placing a brief report on the event on its Face Book Group.
https://aflcfinlit.org/wp-content/uploads/2017/07/Header-Image-3.jpg
0
0
editor
https://aflcfinlit.org/wp-content/uploads/2017/07/Header-Image-3.jpg
editor
2017-09-13 13:31:55
2017-09-13 13:36:42
New Launch : Abhyutthana School of Financial Inclusion, Research and Education (ASFIRE)