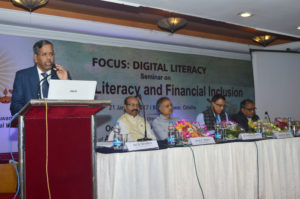 Odisha Financial Literacy Forum, a state level body, engaged in educating people on financial inclusion organised their 2nd annual seminar to disseminate knowledge on digital banking comprising e-banking, pre paid instruments, e-wallet, mobile banking, Aadhaar-based payment system, regulatory framework etc.
'As digital banking opens new vistas, cyber security would be a challenge for all stake holders. The bankers and users need to be sensitised about the digital transactions mentioned Dasarathi Mishra, Managing Partner, AFLC.
Officials from banks, insurance companies, MFIs, MSME sector, banking regulators, Government and students of business schools/universities participated in the seminar and conversed about the changing scenario focusing on digital financial literacy.
Dr. A. S. Ramasastri, Director, Institute for Development and Research in Banking Technology, Hyderabad, Shri P. Krishnamurthy, former PCGM, RBI, Dr. K. C. Mishra, Management Expert and Director of Doha Bank as well as former Vice Chancellor of Sri Sri University, Shri S. K. Mitra, former Executive Director, NABARD, Shri P. K. Panda, Principal, CAB, RBI, Pune, Shri R. N. Dash, former Regional Director, Reserve Bank of India, Hyderabad and Shri Shreedhar Behera, Banking Ombudsman spoke in the occasion.
The Seminar aimed to dwell upon the financial inclusion initiatives of Government and RBI, emerging dimensions of financial literacy and inclusion by banking and insurance sector, consumer protection and grievance redressal mechanism available to the citizens.
https://aflcfinlit.org/wp-content/uploads/2017/07/Header-Image-3.jpg
0
0
editor
https://aflcfinlit.org/wp-content/uploads/2017/07/Header-Image-3.jpg
editor
2017-07-11 09:16:02
2017-07-11 09:16:02
'Odisha Financial Literacy Forum advocates Digital Financial Literacy of Common People'